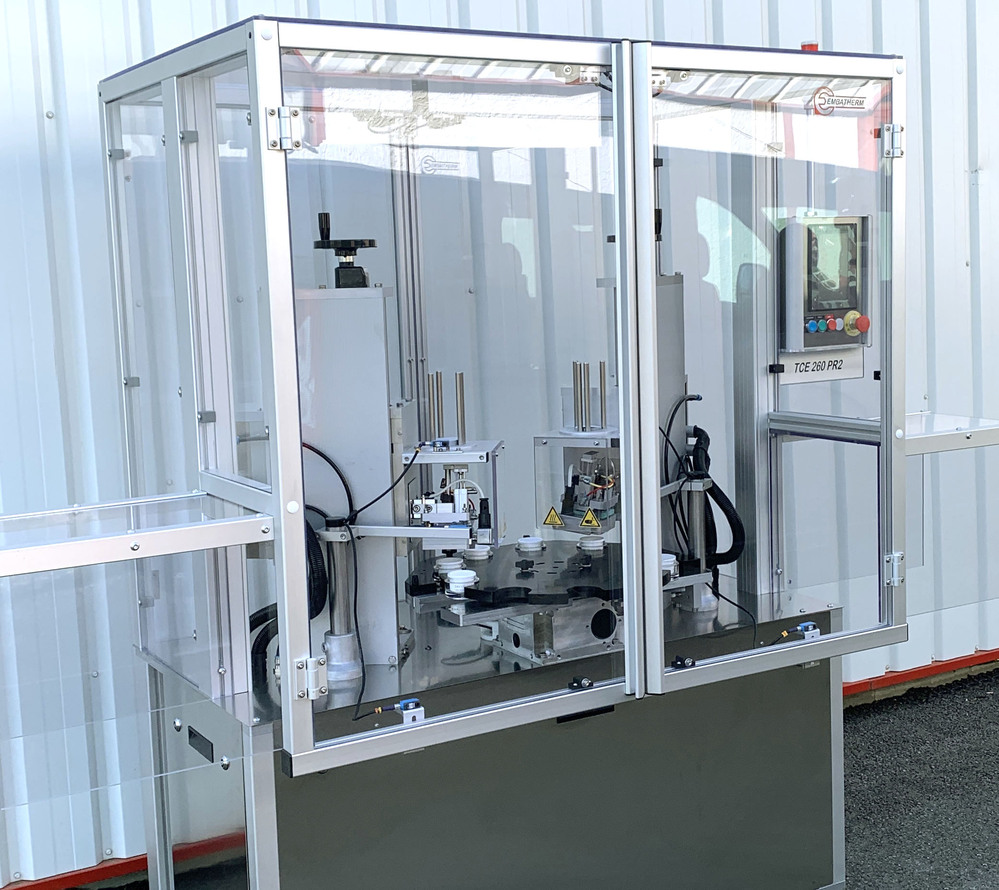 These machines are designed for the automatic heat sealing of pre-cut lids on all types of rigid plastic or glass packaging (treated for ideal sealing) and are intended to be inserted on the main conveyor of your packaging line.
They are equipped with TCE260A sealing stations, EMBATHERM's high standard, which ensure that the seal is picked up, placed and heat-sealed in a single operation.
Modular, they can operate from left to right or right to left, from free pots on a conveyor or in buckets: their design can be adapted to your specific configuration.
These very versatile heat-sealing machines can be equipped with one or two heat-sealing heads depending on the desired speed. Format changes are simple and very fast with a minimum of format parts and recipe registration.
These machines are proposed by default with conduction sealing (iron principle), a first intention technology for plastic jars.
The sealing heads are interchangeable so that, if necessary, induction sealing can be used by adding a GTE2500 generator and an inductor at each station (option) for direct contact induction sealing (main indication: sealing of glass jars in large series).
Regardless of the machine version, all heat sealing parameters are accessible on the colour touch screen display.
The versatility of these machines makes it possible to provide a solution to most requests. In the case of special applications, EMBATHERM studies and adapts any special or specific elements required.
BENEFITS OF THE "TCE 260 PR" MACHINE
The EMBATHERM TCE 260 PR is made up of several versatile heat sealers with many advantages:
Possibility of equipping one or two heat sealing heads according to the desired rate
Heat sealing parameters are adjustable and displayed
The machines are protected, comply with CE standards and are upgradeable
OTHERS MACHINES OF THE RANGE