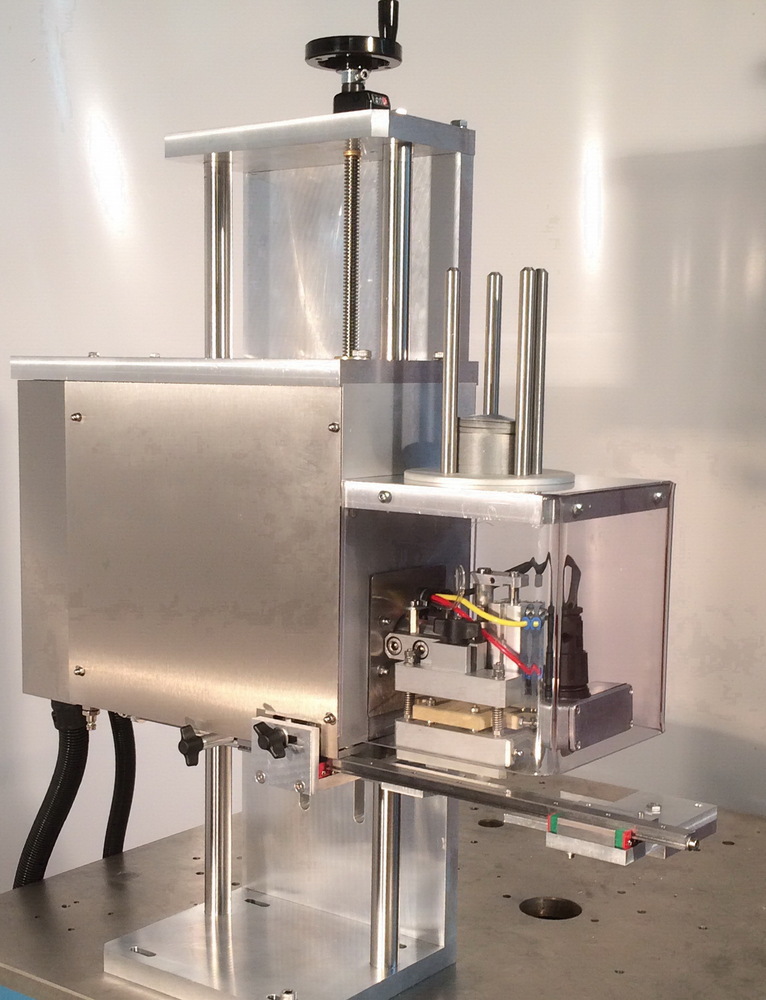 The standard sealing unit TCE 260 A (by conduction or by induction), has been  specially designed for incorporation on automatic filling and capping machines.
These units are designed for the sealing of pre-cut aluminium or PET lids.
The machine takes the pre-cut lid, places it on the jar and seals it all in one operation . Sealing and positioning of the lid are perfectly reproducible. Only one station is required for the sealing operation, with a turnout up to 20 operations per minute.
Changing sizes is quick and easy and the height can be Adjusted hence the polyvalence and the flexibility of the unit  (standard units can deal with diameters ranging from 25 to 100 mm).
The unit is equipped with a vertical magazine that can hold between 500 to 800 lids, and which is placed on the front of the unit. It is then very easy to load the magazine or to change it to another size lid.
These units exist in a full version, with electric box and touch screen and in specific versions for OEMs. They can be adapted to your particular specifications (e.g. without electric box, volume, protective glazing).   Videos of the machine in operation and standard measurements available on request.
BENEFITS OF THE "TCE 260 A" MODULES
The EMBATHERM "TCE 260 A" sealing modules bring you many advantages:
Installation in a single operation
Reproducible sealing and positioning
Versatile, flexible, rechargeable and interchangeable module
OTHER MODULE OF THE RANGE