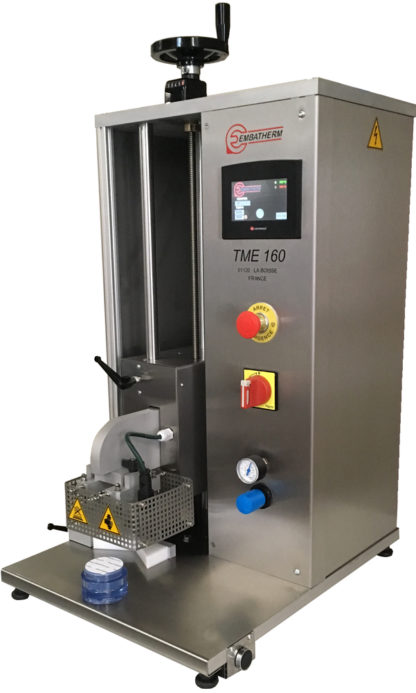 The TME160, by conduction and/or induction (option) conceived for heatsealing of aluminium caps on plastic and glass packagings, is composed of :
A control and regulation box
A power supply for induction sealing (if chosen)
An adjustable height frame
A pneumatic controlled heating head adapted to the containers size.
The introduction of the packaging together with the lids are manual. Adjustments and tools changes are quick and easy.
Heatsealing parameters (time, pressure and temperature or power) are directly displayed and are easy to modify at the control box.
This compact machine is very convenient, easy to carry and to install. It is particularly suitable for small scale production and laboratory tests.
As an optional extra, other parts are available :
Specific tools (weld pieces, jar supports, centering systems…)
Complementary equipment (trolley, control pedal…)
Set induction (power supply + coil) for capsealing ou direct-contact sealing.
Exists also as a unit for incorporation.
BENEFITS OF THE "TME 160" MACHINE
The EMBATHERM "TME 160" conduction heat sealer is:
Even more technically reliable
Possibility of transposing parameters between laboratory tests and industrial series
Extremely simple and quick tool adjustments and changes
Small footprint and easy installation
OTHERS MACHINES OF THE RANGE